How One of the Nation's Top-Performing Schools Uses Personalized Learning to Drive Student Success: An Interview with Dr. Paul O'Malley, Superintendent of Butler School District 53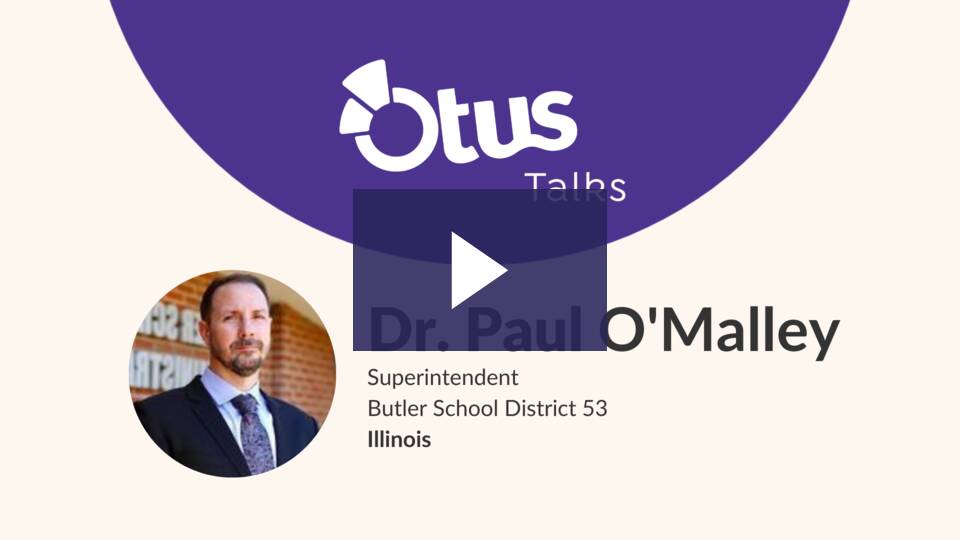 How Personalized Learning is Enacted in a Top Rated School | Otus
A Conversation with Dr. Paul O'Malley
We sat down with Dr. Paul O'Malley, superintendent of Butler School District 53, to learn about how he and his colleagues are using Otus to harness powerful student data to drive personalized student learning plans, and how he has helped his district to become one of the highest-performing in the nation. In 2022, Brook Forest Elementary School was named a National Blue Ribbon School by the United States Department of Education – marking the fourth time a school in the Butler district has received the prestigious accolade, which is awarded to less than 1% of schools nationwide. Butler was also awarded the Whole Child Award by the Illinois ASCD in 2018. In a recent issue of ILASCD Quarterly Journal, Dr. O'Malley shared the success his district has found through individualized learning plans and how Otus helped make it happen.
Three key takeaways from our conversation with Dr. Paul O'Malley
The importance of data-driven personalized learning plans
Dr. O'Malley highlights the value of using data to drive personalized student learning and the success his district has found through this approach. By leveraging data for decision-making and promoting data literacy among stakeholders, Butler has enhanced student engagement, fostered communication and collaboration, and promoted educational equity. This data-centric approach has boosted student outcomes and propelled the district to the pinnacle of performance rankings.
Embrace a slow, methodical approach, and rely on support
To ensure educators become more data-wise and comfortable with new systems, Dr. O'Malley recommends a slow and methodical approach, including training and professional development, as well as partnering with companies like Otus to create comprehensive calendars and training programs and provide ongoing support long after the initial onboarding phase. Dr. O'Malley also emphasizes both the challenges and benefits of getting staff to buy into new data-driven initiatives. Implementing a new system like Otus often encounters resistance. However, by involving stakeholders with diverse viewpoints, there's an assurance of collective agreement, confirming that the new product is appropriate and truly fulfills its intended role.
Balance technology with other aspects of education
While technology like Otus can be a valuable tool for supporting student growth, Dr. O'Malley stresses the importance of balancing technology use with other activities, such as field trips and hands-on learning experiences, to maintain a well-rounded educational experience. Technology is just one tool in an educator's toolbelt, and will never replace the meaningful experiences that are essential to a well-rounded educational journey.
See the full transcript and learn more by visiting Otus.com
---
Looking to place an order? Contact your dedicated Account Manager and mention ILTPP:
Paul Kaskovich 

Account Executive
paul@otus.com
773-789-5444 x110